Dear friends of Atmosphaeres,
Summer has been incredible in Germany, so we spent a lot of time outdoors, scouting and filming new locations. However, we still made sure that we worked on new 360° videos for you as well as some other additions to our website.
Firstly, since the last newsletter, we have released 2 new Sphaeres VR Experiences – the VR Nature Relaxation Experience Croatia and the VR Guided Meditation Experience Finding Your True Self.
Secondly, we have started building a collection of scientific research articles that use 360° video for healthcare and other well-being purposes.
Read on to find out the details.
---
Croatia – A 360° Nature Relaxation VR Experience
---
Croatia was the second country in our southern European trip, after Slovenia and it is just as beautiful.
The fascinating Plitvice Lakes National Park with its turquoise lakes and many waterfalls is one of the highlights as are the wide panoramic views of the Adriatic coastline. But there is more to discover, so take a look at the trailer and enjoy the uplifting piano music by the talented Daunyé Synigal, which he composed specifically for this 360° nature experience.
This soothing and relaxing VR Experience can help your users increase their motivation, improve their meditation practice, and reduce their stress levels. If you want to see the entire VR Experience, simply get in touch and we will send you a full-length and full-quality review sample to try on your own VR headset or panoramic display system.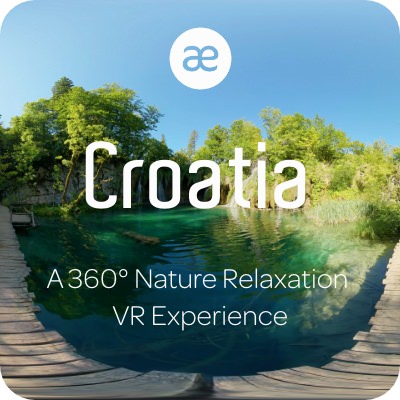 Croatia
Explore Croatia's stunning natural wonders and cultural heritage, from the enchanting Plitvice Lakes to the untamed Velebit mountains, in an immersive 360° journey that will leave you captivated by the country's diverse landscapes.
If you are interested in individual scenes of Croatia, you will find these here.
---
Finding Your True Self – A Guided 360° VR Meditation
---
Escape to tranquility with this guided 360° VR sunset beach meditation. Immerse yourself in the sensory delights of the ocean waves and the sun warming your skin while connecting with your inner self through relaxation and introspection. As you follow the guided journey of deep breathing, body scan, and self-visualization, you'll find yourself renewed and centered, carrying the serenity of this virtual escape into your everyday life.
If you think that the voice seems familiar to you then you are right. We are very grateful that the wonderful Anne Kelly – who you know from our popular "Sunrise Serenity" meditation – has lent us her voice once again to create this beautiful VR meditation.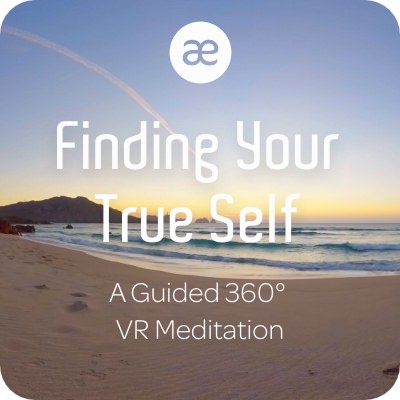 Finding Your True Self
Experience ultimate serenity as you embark on a guided 360° VR sunset beach meditation, connecting with your inner self through ocean waves, sun, and deep relaxation, ultimately carrying this sense of tranquility into your daily life.
If you are interested in the beach scene of Finding Your True Self without music and the guided meditation, you will find the 2 minutes version here and the 14 minutes long version here.
---
Research Articles Collection
---
Back in 2013 when we released our first 360° VR video, very little was known about how these new technologies could be used to benefit mankind. Now, 10 years later, there are plenty of scientific research studies about the use of 360° videos in healthcare and related areas. And a lot of these research studies have used our videos, which makes us both, incredibly proud as well as honored because it means that our videos have contributed to improving the lives of many people by helping them to reduce stress, enhance their mindfulness, and mediation practices as well as relaxing and raising their mood and finding motivation.
The list of research studies that use 360° videos for healthcare and other treatments is long and we will be adding more over time. For now, there are four article summaries in the collection to get started.
While we already have many more studies on our to-add list, we'd love to hear about your favorite research studies that explore the benefits of using 360° videos. So please let us know about studies that you think are relevant and that you would like us to include. We will then summarise the research and add it to the collection.
---
Future Outlook
---
Now that we have completed 5 new VR Experiences, we will be working on the individual clips of Venice, Provence, and Ireland. This includes stitching, clean-up, color grading, and sound design.
There are a lot of great shots coming, so stay tuned for more 360° video goodness

---
Questions?
---
We hope you found this update helpful and if you have any questions please don't hesitate to contact us. We are here to help you succeed with your business.
Yours sincerely,
Eric & Susanne @ Atmosphaeres