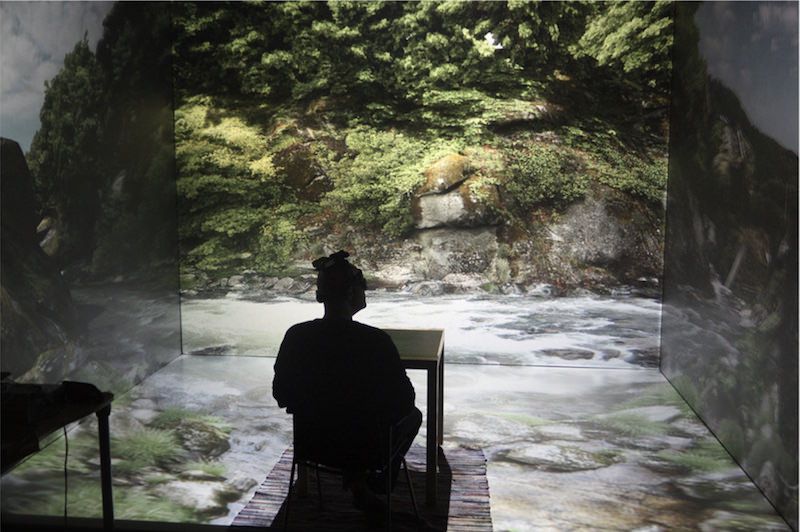 Virtual Relaxation Environment Helps To Reduce Stress
In 2013, Matilda Annerstedt and colleagues investigated the use of virtual relaxation environments for the purpose of physiological stress recovery. They were particularly interested in the effect that the sounds of nature have on stress recovery. They created a wall-projected virtual representation of a forest scene and after inducing stress with a stress test (a virtual job interview) they put study participants into the virtual forest with one group receiving sounds of nature together with the immersive visuals of the forest scene and one group without the sounds of nature. The VR-environment is a fully immersive experience, where the users enter the VR-room and gets a fully 3-dimensional feeling where they can walk around in the environment which gives them a strong sense of presence and realism. The reserachers also surveyed a control group that did not receive the virtual nature setting but instead sat in the laboratory room without any visual or auditory stimulation. The researchers measured heart-rate as well as cortisol levels in the saliva of the study participants along with other scientific metrics. They found that in the 40 minute restoration time after the stressful job interview, the participants who were exposed to the virtual forest together with the accompanying sounds of nature (bird songs, gently gurgling water) recovered a lot better from the induced stress than their counterparts that just saw the virtual forest without nature sounds or those that were just sitting in the laboratory room without any stimulation.
The researchers conclude that "the results demonstrate a potential mechanistic link between nature, the sounds of nature, and stress recovery, and suggest the potential importance of virtual reality as a tool in this research field".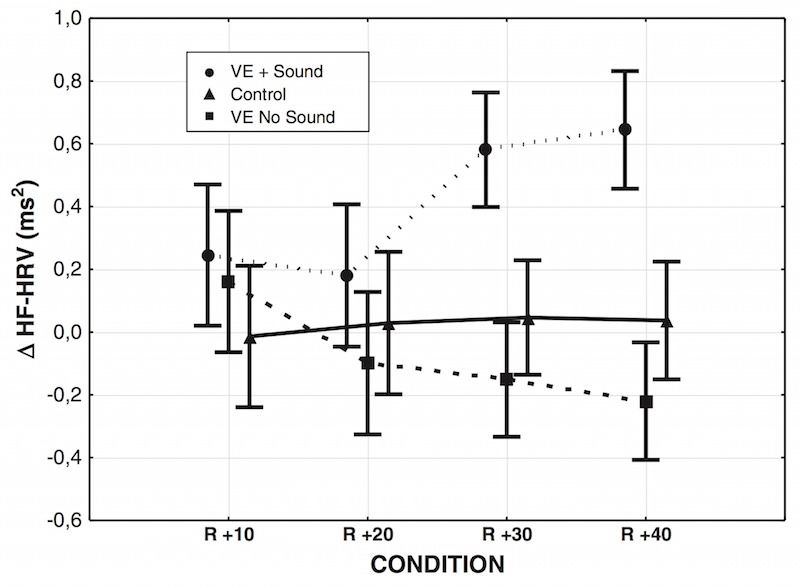 The curves in the diagram show the High-Frequency Heart-Rate Variabilities of the three experiment conditions with the circle being the virtual forest with nature sounds, the square, just the virtual forest without nature sounds and the triangle the control condition of the lab room without any stimulation. Matilda van den Bosch (Annerstedt) just told me in an email conversation the her team has just recently repeated the study and also tested for the impact of only sound itself, without any virtual reality exposure at all. I do not know the outcome of this study and it has not been analysed and published yet but I am certainly interested in the outcomes of this new study, so stay tuned if you want to find out more in a future blog post.
* Annerstedt, M., Jönsson, P., Wallergård, M., Johansson, G., Karlson, B., Grahn, P., . . . Währborg, P. (2013). Inducing physiological stress recovery with sounds of nature in a virtual reality forest–results from a pilot study. Physiol Behav, 118, 240-50. doi:10.1016/j.physbeh.2013.05.02
http://www.sciencedirect.com/science/article/pii/S0031938413001650